Alley of Heroes of the Soviet Union - St. Petersburg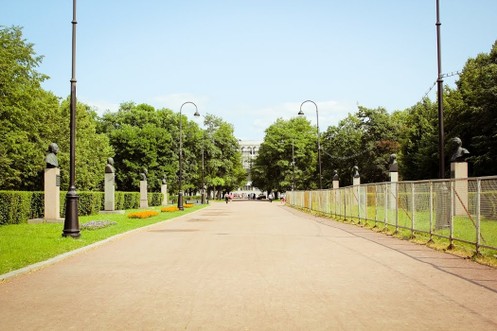 This is the compositional axis of Victory Park. It was created one of the first and was framed by busts of the natives of the city, who received two stars of the Hero of the Soviet Union.
The alley has a length of 1 km, it is lined with lindens and cotoneaster. It should be noted that the avenue of honor was still in the foreground of the park, created before the war, and was repeated in the post-war version.
In accordance with decrees of the Presidium of the Supreme Soviet of the USSR, busts of Heroes were installed on it. Initially, there were six, but later the number of busts grew steadily. The first busts - the guard of pilot captain V.M. Golubev (sculptor D.P. Schwartz) and the guard of major pilot V.N. Osipov (sculptor S.D. Shaposhnikov) - were opened on May 15, 1948. On May 13, 1950, busts of pilot E.P. Fedorov (sculptor S.D. Shaposhnikov) and V.I. Rakov (sculptor T.S. Kirpichnikova) were installed; on June 29, 1951, pilot N.V. Chelnokov (sculptor N. . A. Sokolov) and January 11, 1953 - Marshal of the armored forces S. I. Bogdanov (sculptor L. E. Kerbel).
The opening ceremony of the first two busts was attended by 78 Heroes of the Soviet Union, as well as V. N. Osipov and the family of the deceased V. M. Golubev.
Later, busts of natives of Leningrad, who became twice Heroes of Socialist Labor, were also installed on the avenue of Heroes of the Soviet Union.
This tradition is maintained in our time. The last one was a bust of the researcher of the polar regions A. N. Chilingarov, Hero of the Soviet Union and Hero of the Russian Federation (sculptor M. F. Sogoyan). The monument was unveiled on May 27, 2010.
The height of each bust is 1.25 meters, the pedestal is 3 meters. The pedestal reproduces decrees for awarding the second Hero Star and the symbols of the troops to which the awarded.